Welcome
A boutique hotel and place for those interested in the arts…
The Northern Arts Hotel on Djarra Country, in Castlemaine, central Victoria (formerly the New Northern) was created as a retreat, a place of warmth and welcome that offers much more than just a room. In August 2020, this beautifully restored establishment was purchased by Maggie Fooke, former owner of the iconic Brooklyn Arts Hotel in Fitzroy.
Maggie brings her own quirky style and flair to this grand dame, creating an oasis – one of those places you'll be glad you found, perfect for those interested in the arts. The Northern Arts Hotel is a place where people come together for shared experiences and stimulating conversations.
What was once a country pub is now a beautiful guesthouse featuring nine rooms, the result of a restoration in 2012 by furniture maker, Nicholas Dattner. Rooms are all located upstairs and are not accessible to wheelchairs.  The Northern Arts Hotel provides an honest, uncomplicated and comfortable stay where guests can kick back and relax – a real home away from home.
Recent article from TimeOut Melbourne magazine said 'Castlemaine has long been celebrated for its commitment to the arts, and the Northern Arts Hotel is no exception. While rooms here are warm, charming and steeped in history, it's the atmosphere that made us fall in love with this hotel.' Read article here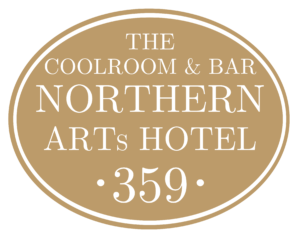 The property also features The Coolroom – hosted by Frank Veldze, room technician and Bar manager Alan Joyce – a place for jazz and other musical performances in a quiet room atmosphere along with other salon-style events. A recent audience member recently said;
'warm, welcoming space with great decor reflective of the sophisticated, eclectic tastes of the proprietors. Next, it is the sort of people they attracts—the kind of people who pursue the Muse rather than the moolah—and those who support them.' Cheryl Jorgenson April 2022.

Bookings for events at The Coolroom can be made through Humanitix: Booking link here
The Northern Arts Hotel is located within easy strolling distance to the beautiful Castlemaine Botanical Gardens, The Mill Castlemaine artisan precinct and the Bridge Hotel. The deliciously renowned Johnny Baker is also on your doorstep (seriously!). And the Northern Arts Hotel is a great base from which to explore the many riches of the central Victoria region.
Some guests are intrigued by our room names. Each room is named to honour  a well known Australian artist, or in the case of one room a father and daughter who were both well regarded artists. Find out more here. 
We look forward to meeting you and sharing stories. Accommodation for those interested in the arts.
We acknowledge the Djarra people, the custodians of the land on which the Hotel is found. We hope to walk together into the future. Find more here