The Coolroom Duration: 2022
WHAT'S ON IN THE COOLROOM AT NORTHERN ARTS HOTEL
The Northern Arts Hotel is a wonderful place to gather for workshops, events, and film screenings and is developing a growing reputation for its Coolroom program of regular music, spoken word, and film events.  Read on for more information and/or send us your email to join our mailing list here.
One of our audience recently said,
'brilliant venue which never seems to fail to get the creative juices flowing for a lot of locals and out-of-towners'

'a warm, welcoming space with great decor reflective of the sophisticated, eclectic tastes of the proprietors. Next, it is the sort of people they attract—musicians, artists, writers—the kind of people who pursue the Muse rather than the moolah—and those who support them.' Cheryl Jorgenson April 2022

If you want to make a proposal to stage an event, present a workshop or offer us a gig to stage then send The Coolroom at the Northern Arts Hotel an email.
THE COOLROOM
The Coolroom at the Northern Arts Hotel is a place for jazz and other event-based performances in a quiet room atmosphere. It's also a place for friends and strangers to come together to share a secret film screening.
There's the LOW BAR, where drinks are at 1990s prices.
There are also random other events that take our fancy.
We hope you'll join us in the relaxed, convivial atmosphere.
Find our events on the Coolroom Facebook here
---
CURRENT EVENTS
WATCH A FLICK WITH FLAUS: THE NEXT TEN

Ten more flicks from Sunday at 2.30pm, from 20 February.
Bookings are not essential but preferred on Eventbrite:  here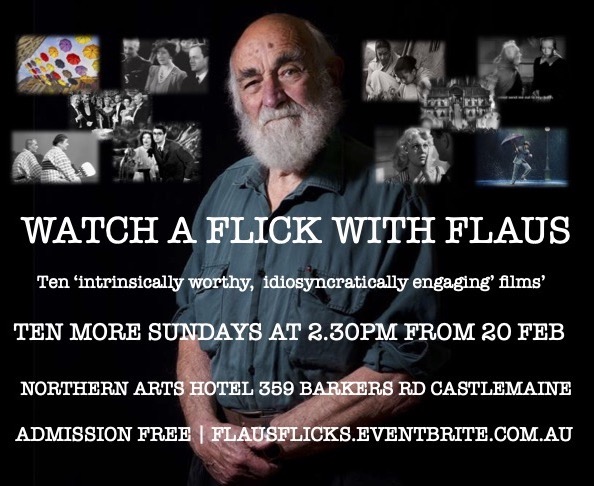 Continuing the Sunday tradition ten MORE 'intrinsically worthy, idiosyncratically engaging' films over ten weeks.
Commencing Sunday 20 February join John Flaus at the Northern Arts Hotel when he will introduce and engage wholeheartedly in a dialogue with the audience regarding one of his chosen films. At 87, Castlemaine local resident and national treasure, commentator, actor, film doyen, and the generally good bloke has chosen a further ten 'intrinsically worthy, idiosyncratically engaging' films from a lifetime of watching.
Next session: Sunday 15 May  2022 at 2.30pm  
The Coolroom at the Northern Arts Hotel 359 Barkers St Castlemaine 3450.
All shown free.
---
SECRET FILM AT THE NORTHERN
Every Sunday night from 7.30pm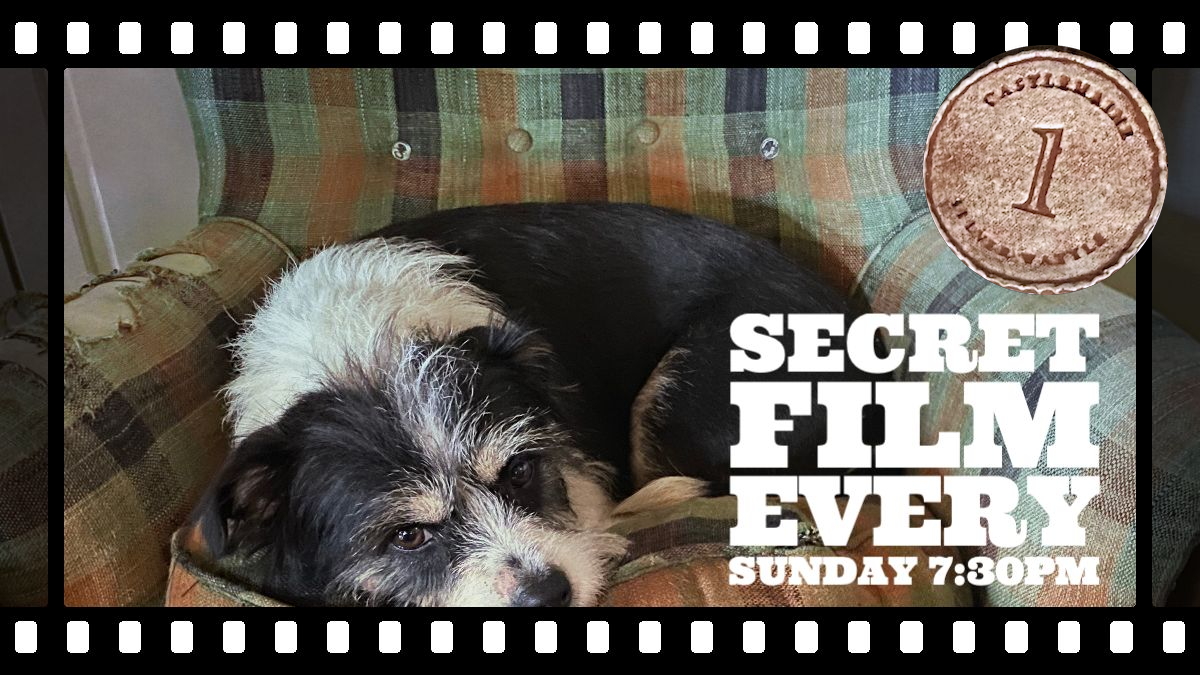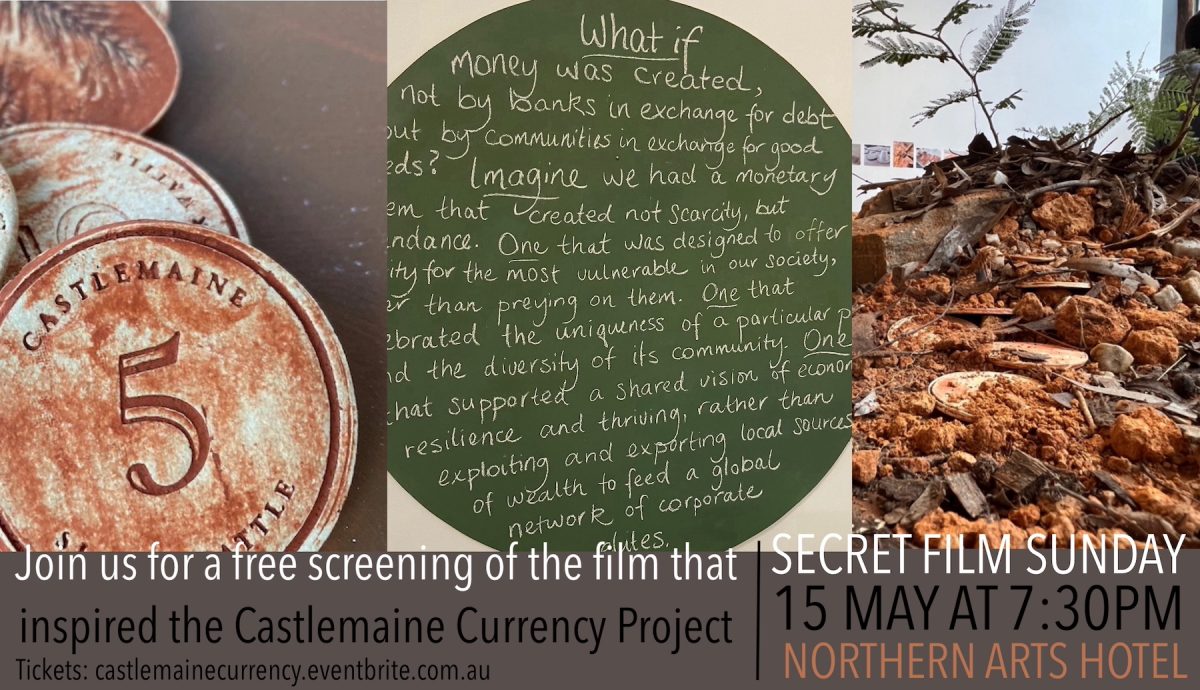 .
Join us for a free secret screening of the film that inspired the Castlemaine Currency project. We look forward to discussing all the ways we can progress our community through innovation energy, agriculture, economy, democracy and education. By drawing connections to our own Wararack Initiatives, the links between the potential for a local currency and all these areas of related activities can be made. Silver wattle coins are accepted at the bar.
Bookings preferred:
EVENTBRITE TICKETS
---
THE NORTHERN MUSIC SESSIONS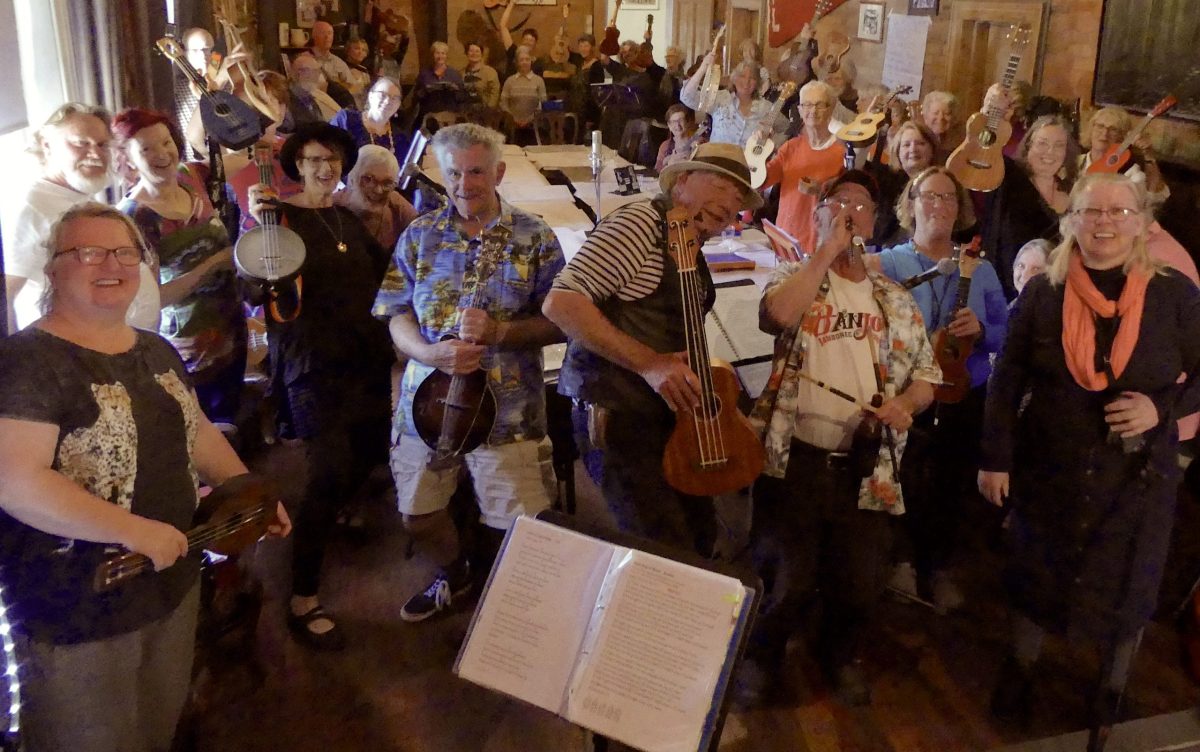 What a great way to spend an hour or so on a Thursday afternoon. A friendly and welcoming group session where you can play along to songs of all times and seasons. All ukes & other instruments (even the kazoo) & voices welcome!!
Date: Thursdays 4pm – 5.30pm
Next: Thursday 12 May
Location: The Coolroom at the Northern Arts Hotel
Cost: Weekly Donation
Contact group leader Fi for Information: 0492 892 335
---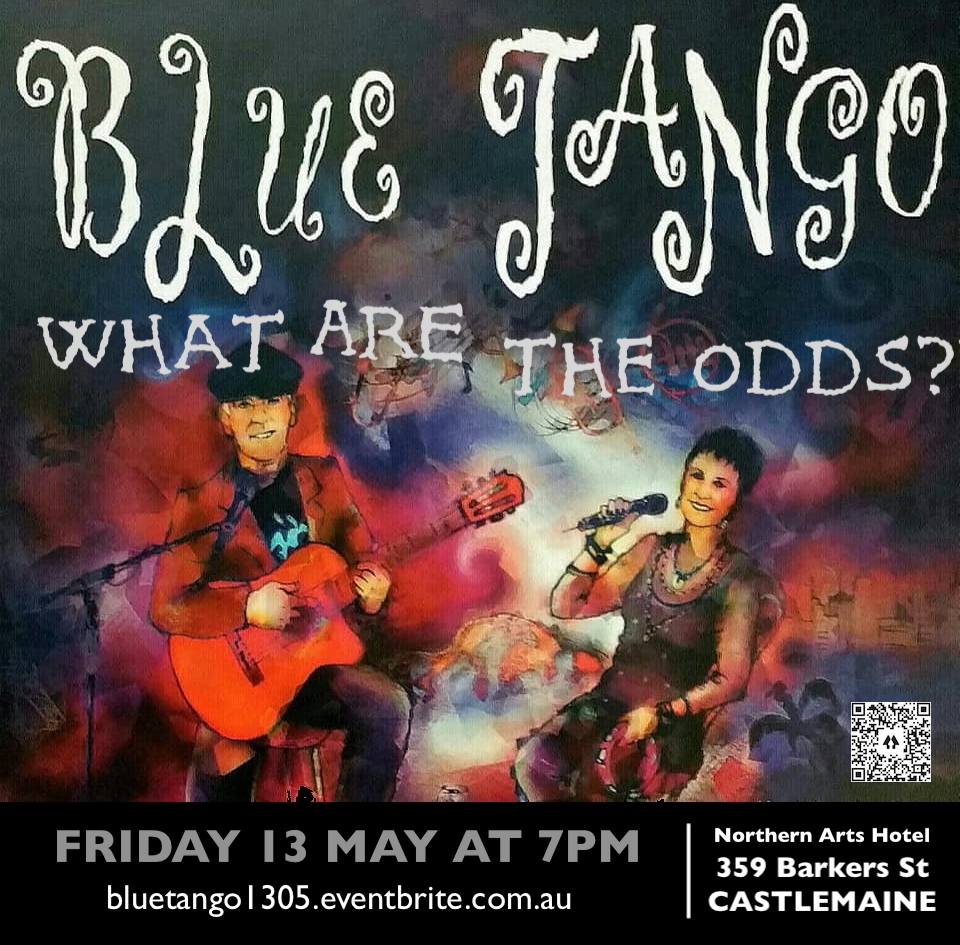 The 'believe or not' stories behind twenty songs! One-handed piano players. Upside down guitar players. The lyric writer of a classic song who never wrote anything else. Handicapped geniuses of all sorts. Hits written in asylums… We reckon our partnership is an unlikely bit of luck. So we relate to thescarcely believable stories of these twenty songs. Bring your what-are-the-odds stories along. Folk, blues, ragtime, country, jazz, latin, rock..this concert has variety! Prizes,trivia, parodies (of course!), visuals(!), singalongs… the lot!
---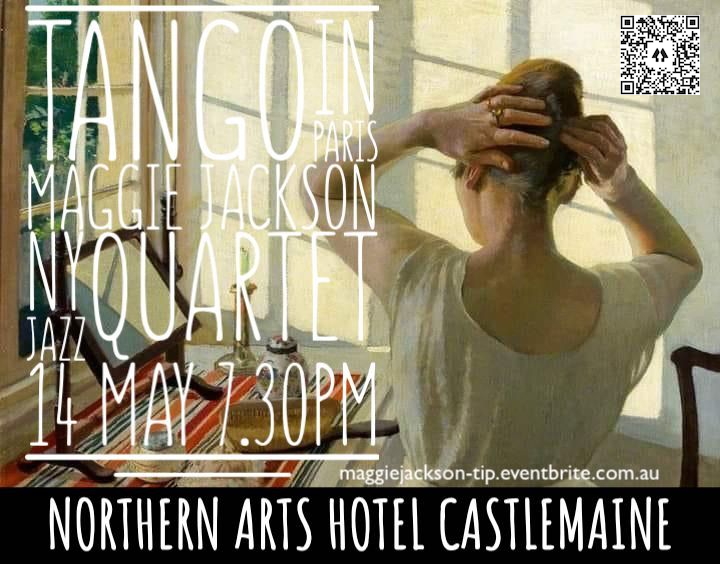 Imagine yourself wandering down the boulevards of Paris, Castlemaine. You hear the seductive and intoxicating sounds of jazz wafting out from an open doorway and the subdued clink of glasses. Intoxicating melodies, and rhythms, that breathe new life into Debussy's work, Gershwin, Brubeck,  Intimate minuets to have your heart soaring. Loads of joy and warmth. You wander in to see MAGGIE JACKSON on Piano, Vibes, Vocals, RENE RAULIN on Double Bass, Guitar, PETER GILBERT on Percussion, LEE BENNEWITH on muted Trumpet. You enter The Coolroom at the Northern Arts Hotel for a most evocative night with friends.
Come find us…
---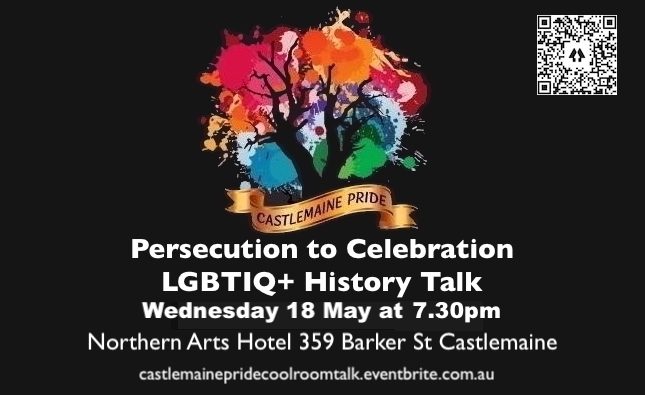 NOTE: THIS EVENT HAS BEEN RESCHEDULED FROM MAY 3 TO MAY 18
Eventbrite Bookings | Download Pride PDF Program
---
SOME OF MANY PAST EVENTS