The Coolroom Duration: 2021
WHAT'S ON IN THE COOLROOM AT NORTHERN ARTS HOTEL
The Northern Arts Hotel is a wonderful place to gather for workshops, events, and film screenings and is developing a growing reputation for its Coolroom program of regular music, spoken word, and film events.  Read on for more information and/or send us your email to join our mailing list here.
THE COOLROOM
The Coolroom at the Northern Arts Hotel is a place for jazz and other event-based performances in a quiet room atmosphere. It's also a place for friends and strangers to come together to share a secret film screening.
There's the LOW BAR, where drinks are at 1990s prices.
There are also random other events which take our fancy.
We hope you'll join us in the relaxed, convivial atmosphere.
Find our events on the Coolroom Facebook here
CURRENT EVENTS
Watch a Flick with John Flaus
Each Sunday at 2.30pm commencing 21 November [Sun 21 Nov sold out]
Bookings and Details on Eventbrite:  here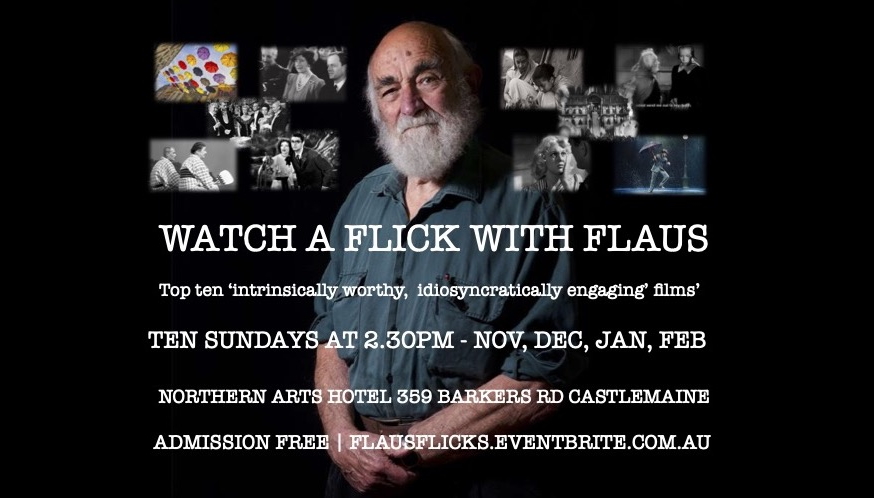 Ten 'intrinsically worthy, idiosyncratically engaging' films over ten weeks.
Ten films in ten weeks from 21 November -19 December 2021 and from 16 January 2022.
All shown free. Bookings and Details:  here
Films selected by Billy Wilder, Howard Hawks, Carl Theodor Dreyer, Humphrey Jennings, Orson Welles, Fritz Lang, Satyajit Ray, Stanley Donen, Yasujirō Ozu, Jacques Demy. Films to be shown each week will be chosen on the day.
Photo of John by Darron Davies [find out more about Darron's work here]
THE CANDIDATE a story of electoral politics
Presented by CDoc and the Coolroom
Saturday 27 November | 2pm
Bookings on Eventbrite: here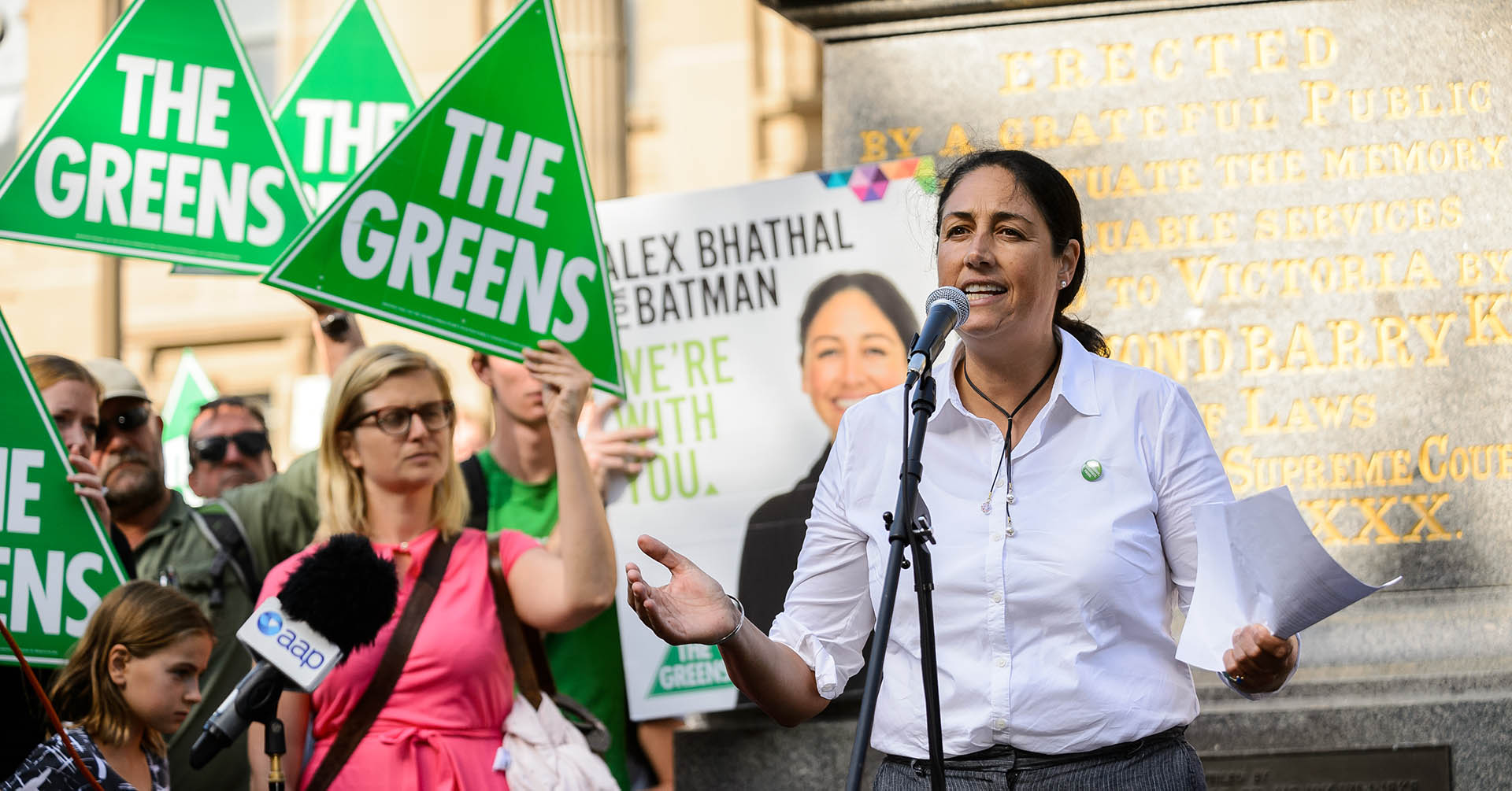 An up-close and personal story of electoral politics …where truth is stranger than fiction.
THE CANDIDATE is a feature-length observational documentary that follows Greens candidate Alex Bhathal over the final three weeks of her campaign to win a seat in the Australian federal parliament in 2018. In this, her sixth attempt in fifteen years, and with a 1% margin between her and victory, she and her team have good reason to believe that history is finally on their side. But this is no ordinary campaign…
Following the screening of the film be prepared for a no-holds-barred dialogue as we welcome the director, Helen Gaynor & editor Ian White for a discussion about the director and editor relationship on an observational feature documentary.
TARAB Classical Arabic Music with a Twist live at the Coolroom
Saturday 4 December 2021 at 7pm
Book tickets on Eventbrite: here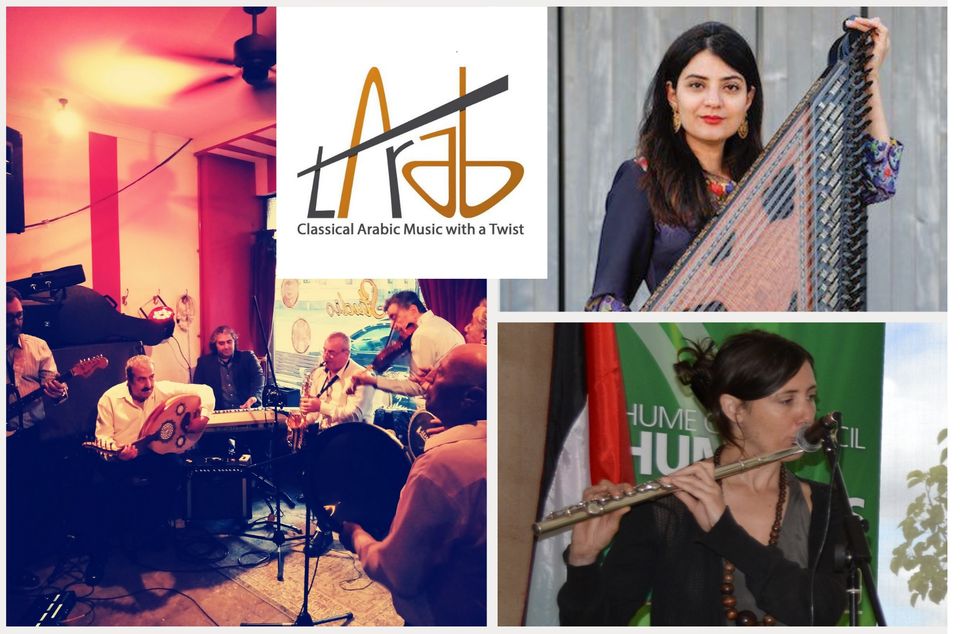 The band brings together multi-faith Arabic and non-Arabic musicians live, on stage, in Castlemaine for the very first time.
Tarab is an Arabic word that roughly means the amusement and joy you get from good often classical Arab, music. Dr AJ Racy in his book about music in the Arab world says, 'In Arab culture, the merger between music and emotional transformation is epitomized by the concept of tarab, which may not have an exact equivalent in Western languages.'
In 2019, Yousef Alreemawi (a multi-talented person with a disability) founded the band and named it after this beautiful concept. Tarab are passionate and talented musicians, and indeed the band owes its success to being Melbourne's first and only band that is totally dedicated to instrumental classical Arab music.
While the band started at the hands of multi-faiths Arabic speaking musicians (of Palestinian, Lebanese and Syrian origins), we are proud that two non-Arab musicians have joined us: Sarah McDonald, a Castlemaine-based Australian (Flute), and Vahideh Eissaei, Iranian (Qanun). This is a testimony of the beauty of tarab and its ability to gather around it people from different faiths and cultures.
We hope that we will bring not just the joy of new, good music, but also knowledge about the Arab world; the home of tarab, especially in times where polarization and misconception over Islam and Arab issues abound.
Blue Tango present the History of Pop in Twenty Songs at the Coolroom
Friday 10 December at 7:30pm
Book tickets on Eventbrite: here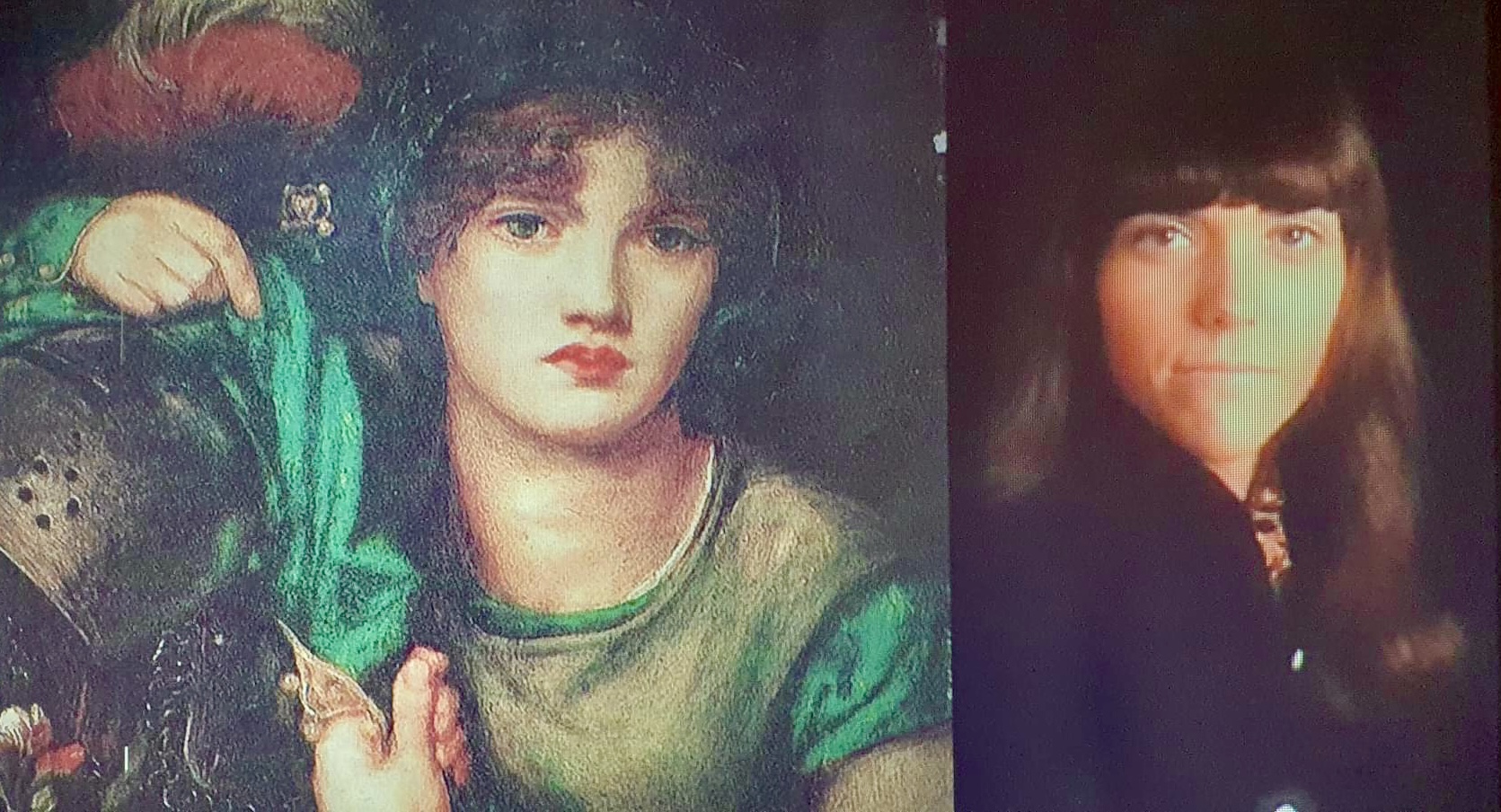 Lynne and Dave aka Blue Tango return to the Coolroom with a new show. The history of popular music in twenty wonderful songs.
Greensleeves was top of the pops for 400 years. Starting from there we trace the 'fascinating rhythm' of popular music illustrating major milestones with our unique arrangements of time-honoured songs. Folk, blues, ragtime, country, jazz, latin, rock…this concert has variety!
GOOD VIBRATIONS with Cate and Frendz at the Coolroom
Saturday 11 December 7pm
Book Tickets on Eventbrite here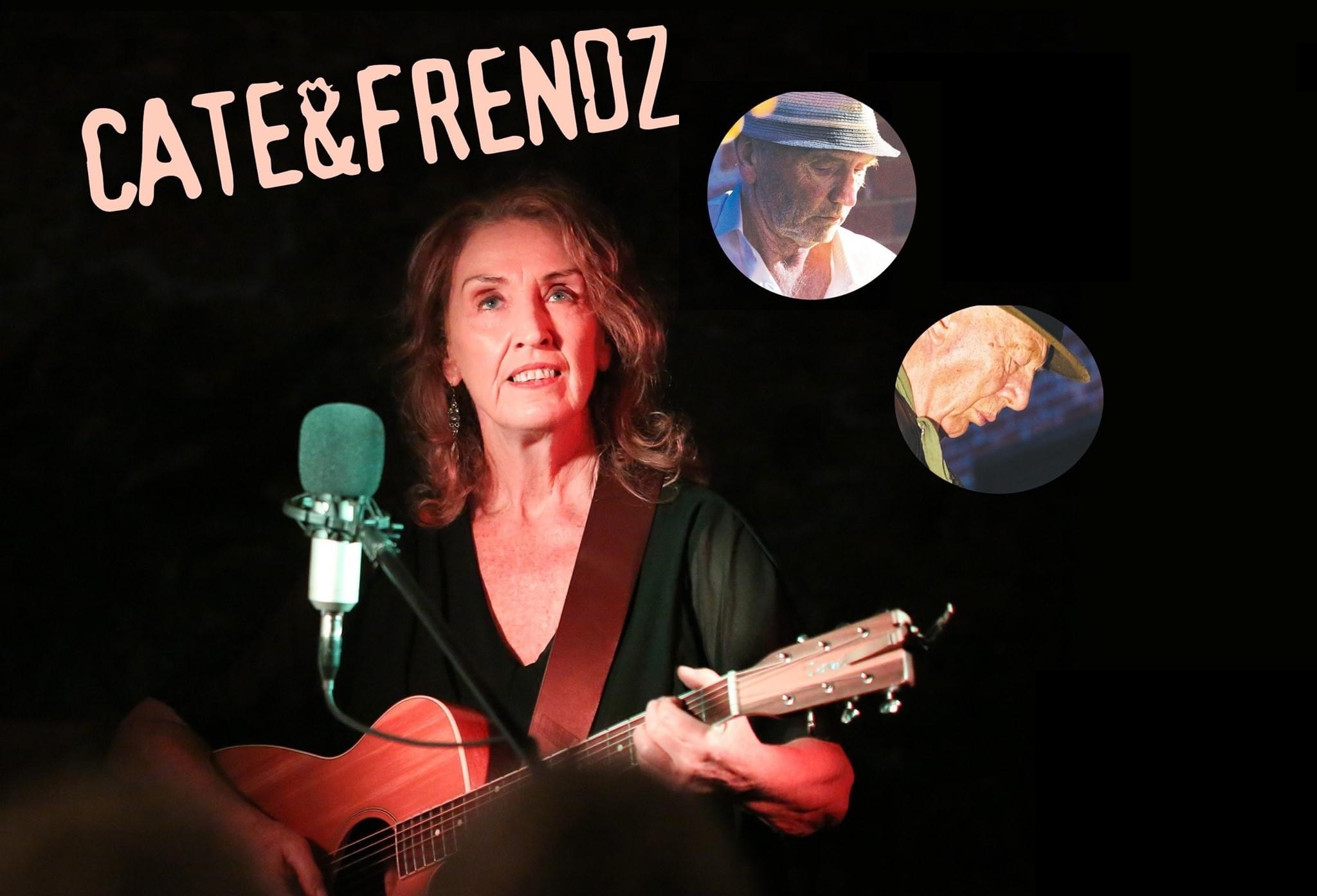 Cate Mercer returns to the Coolroom with Howard Malkin on lead guitar and Nic Lyon on bass.
Cate will be playing for us again in her 1st gig back since covid, and will be joined by well-known and respected musicians Howard Malkin on lead guitar and Nic Lyon on bass. The repertoire Cate has created will take you on a musical journey through the 70s and 80s as she shares her love for songs that have stood the test of time.
SECRET FILM AT THE NORTHERN
Every Sunday night from 7.30pm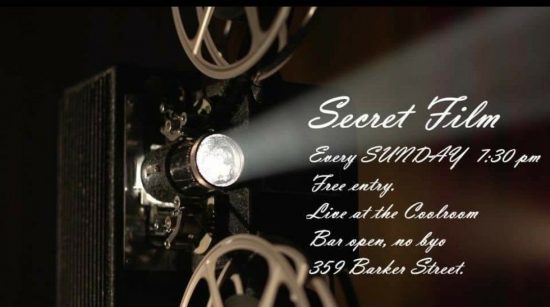 Calling all film buffs.
Secret (surprise) films will screen every Sunday night from 7.30pm,
Presented by a revolving plethora of local identities, you never know what gem will be screened.
Free admission. All welcome. No booking necessary.
No BYO – bar available at low prices.
SOME OF MANY PAST EVENTS
Watch a Flick with John Flaus | Sunday 21 November | METROPOLIS

Now nearly 100 years since its first release an important film but for its content, but also its influence on so many films since. Also fascinating that an extra 60 minutes has been added back into the film in 2010 so it is quite different from the version you may have seen in the past.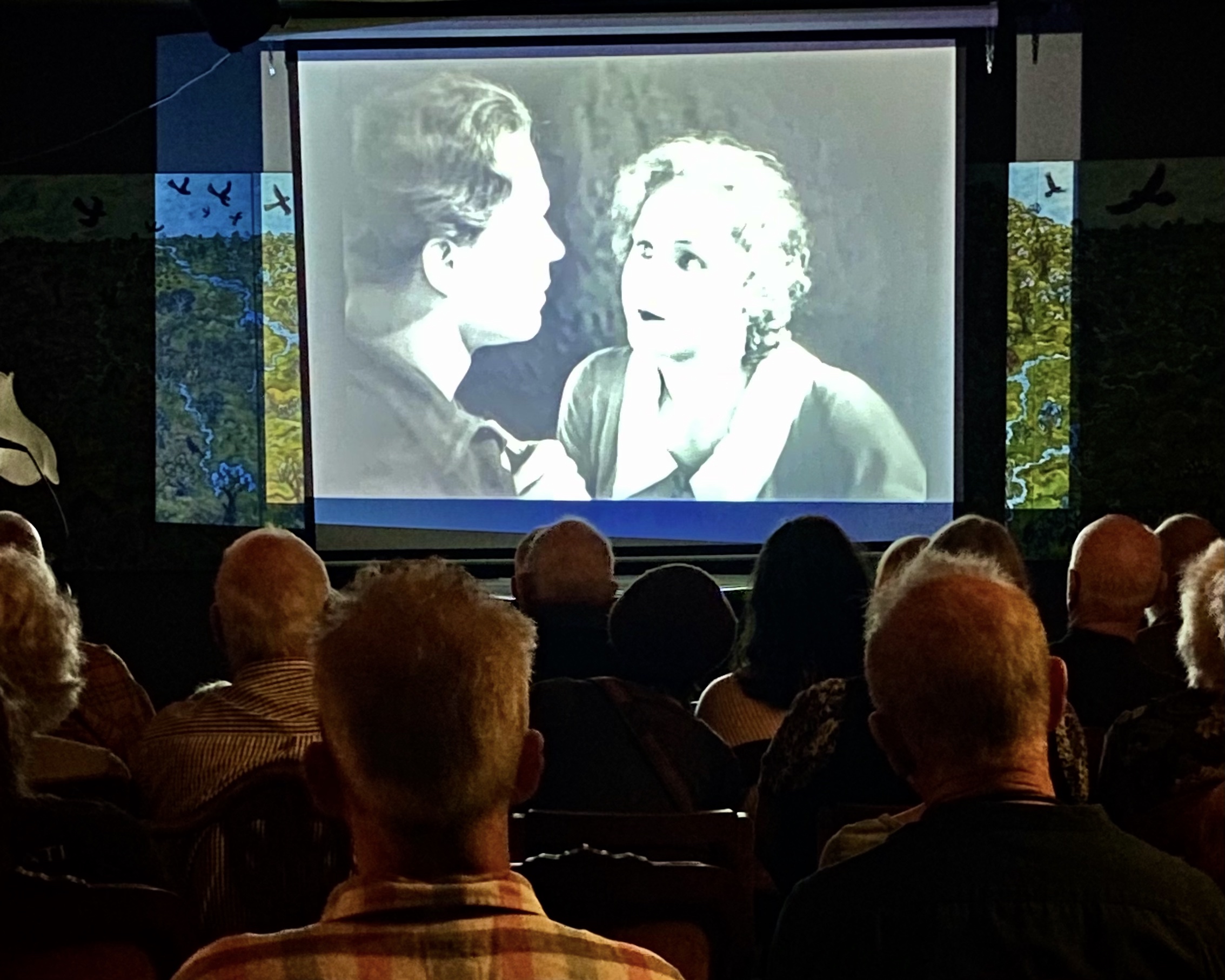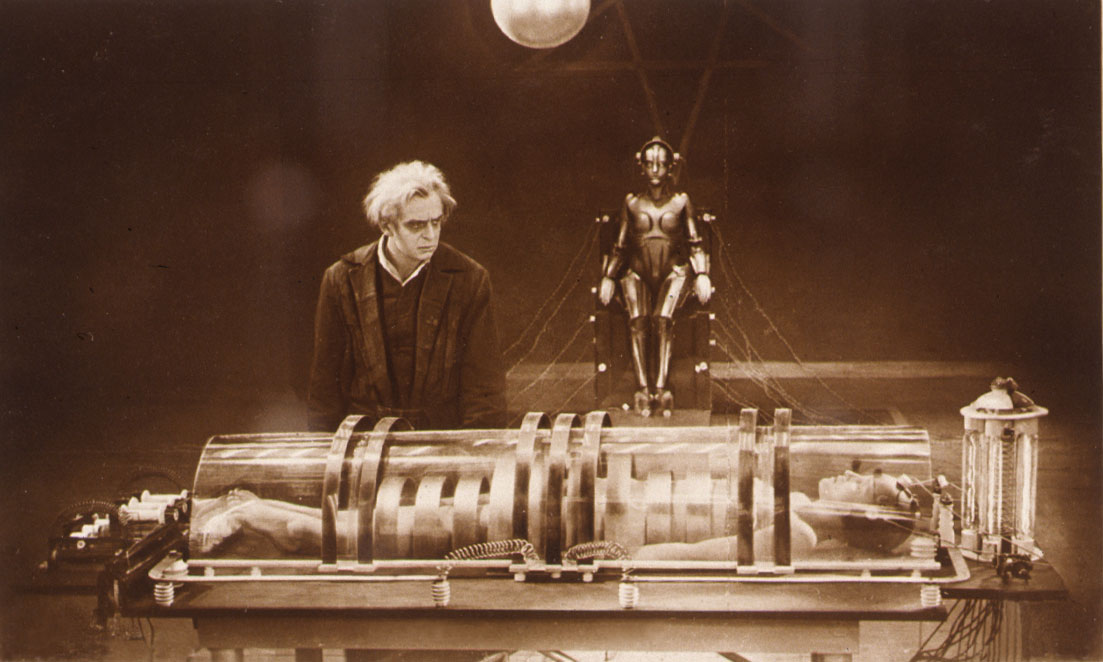 Awake from your Slumber
Maggie Jackson NY Jazz Quartet

Saturday 20 November | 7.30pm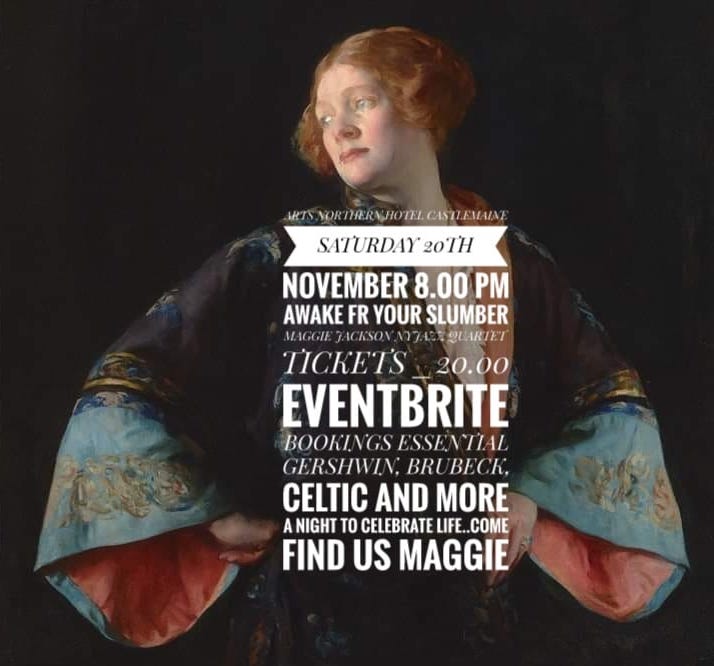 Maggie Jackson returns to the Coolroom with Awake from your Slumber.
A wonderful night of Gershwin, Brubeck, Celtic, and more…
RENE RAULIN | Duble Bass, Guitar
PETER GILBERT | Percussion
LEE BENNEWITH | Muted Trumpet
MAGGIE JACKSON | Piano, Vibes, Vocals
Windows of Longing: The Heffernan Project
Friday 19 November | 7.30pm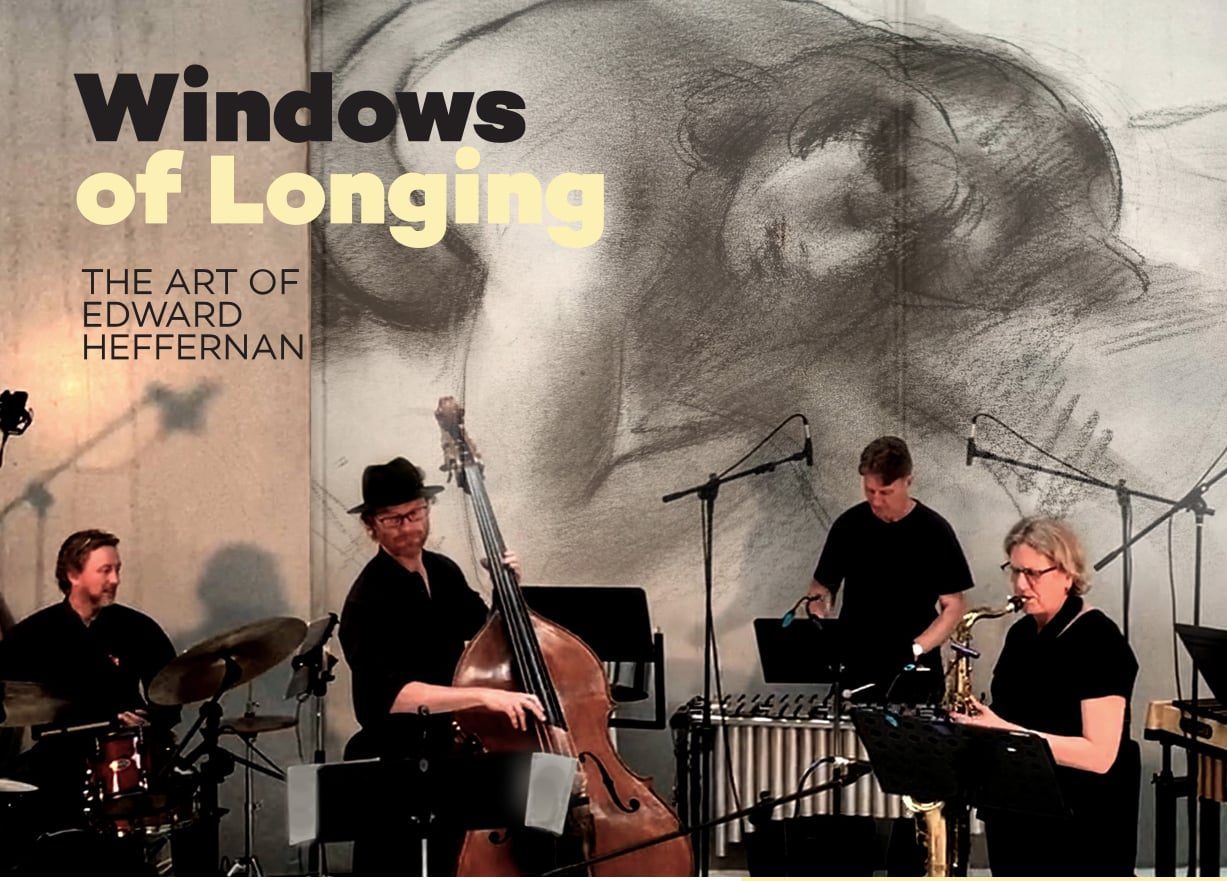 Central Victoria Wildlife Hospital Benefit Concert
Saturday 13 November | 7.30pm

JOHN FLAUS POETRY BOOK LAUNCH
Saturday 3 July | 2pm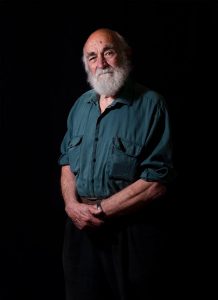 A new book by local resident and national treasure, John Flaus, is the latest offering by indie publisher Birdfish Books. Its title, Verba Sequentur, is a Latin phrase meaning "Know your stuff and the words will follow". And Flaus surely does, now in his ninth decade of life with a rich and varied career in film and on stage under his belt. This is his second book of verse, revealing an impressive mastery of form and a real depth of observation of his wide world of experience.
'Verba Sequentur' was launched by Dr. Tom McWilliam at the Northern Arts in Castlemaine on Saturday 3rd July.
KAVISHA MAZELLA and TRIO RITURNELLA
Friday 9 April | 7pm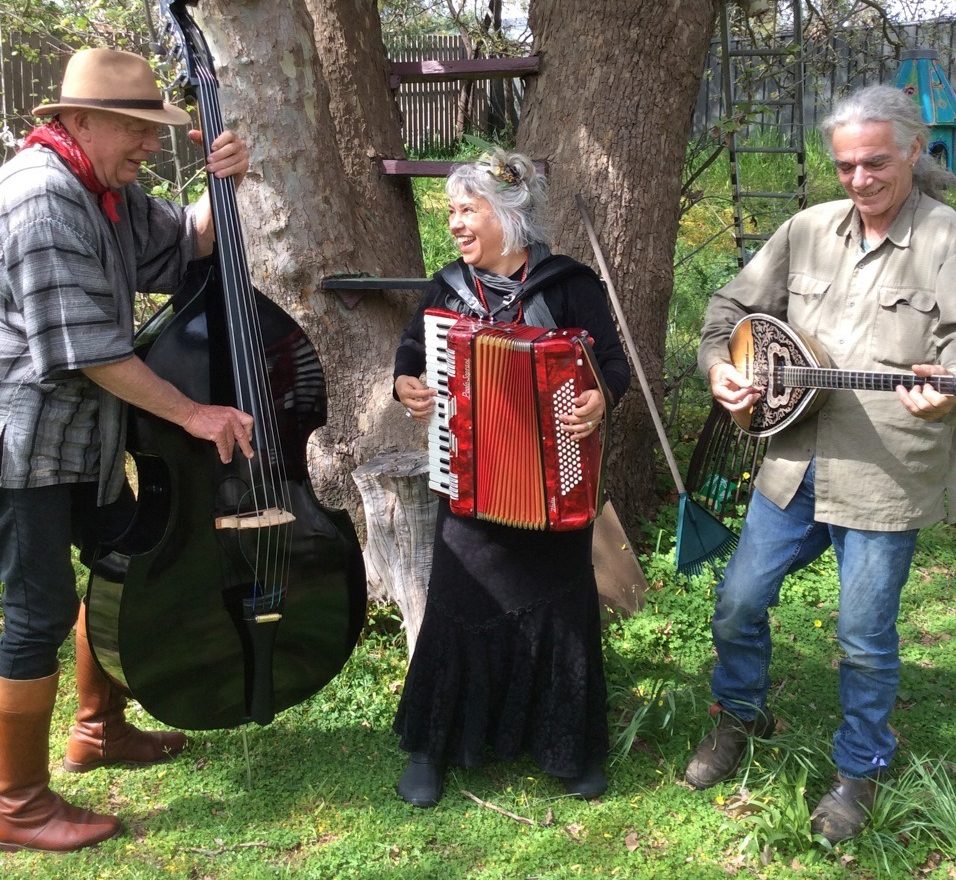 60 seats only
SONGS of Transformation
The endless blue sky of Southern Italy is marked by the swift and darting flight of the swallows returning from Africa.
Thus does the songbird Kavisha return to her roots and in her journey has rediscovered old gems from the 1400 to the 1900's.
She is also a poetic songwriter .Her contemporary songs together with these ancient songs of love, humour, laments, protest songs and death paint a strong portrait of the gutsy people who worked the land and show the rich tradition of authentic Italian Folk. Kavisha is artfully joined by veteran world musicians Nicolas Lyon on violin and double bass and Jack Norton on Bazouki and guitarra battente ,
The Aria award winning songbird Kavisha Mazzella will take you on an unforgettable transformational musical journey celebrating Life love and beauty.
ROSE TURTLE ERTLER and CARL PANNUZZO
Sunday 11 April | 2pm
Tickets $20.00 / $15.00 concession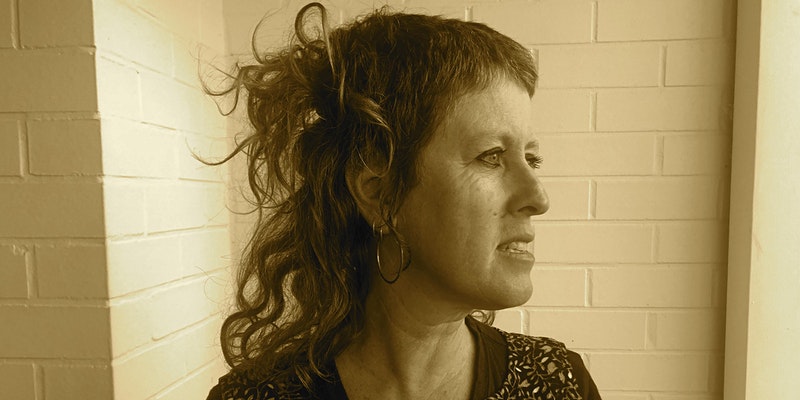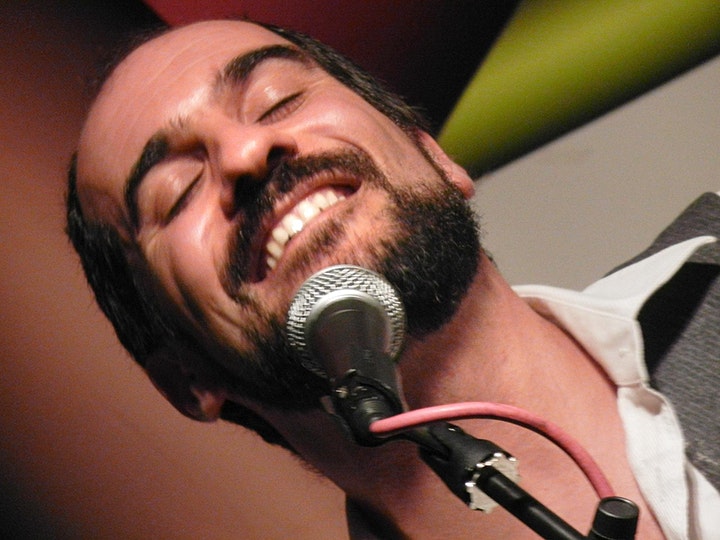 A delightful afternoon of meaningful music and song from Rose and Carl.
Rose Turtle Ertler is a musician, composer and community arts facilitator. She plays a range of instruments including ukulele, banjo, piano, electric guitar and is inspired by everything from string quartets to nude distorted noise artists. She has performed extensively over the last 30 years, often touring solo, other times in numerous collaborations.Rose is a member of the Black Orchid Stringband a group of people from the Australian West Papuan community who use music to share stories of their culture and struggle for independence.
After 31 years of gallivanting on the mainland, Rose relocated back to Tasmania a couple of years ago. Her most recent project is an all women/girls onslaught of 22 electric guitar/bass players called 'Mapatazi' who play only their own original material. The band's world premiere gigs were in March 2021 as part of Ten Days on the Island. Rose is currently planning a series of solo piano/vocal gigs in Tassie and on the mainland. www.roseturtleertler.com
Carl Pannuzzo, vocalist, multi-instrumentalist, autodidact, songwriter and educator, 30+ years in demand nationally and internationally, performing/recording with many artists and projects as varied as Bob Sedergreen, Opera Australia, Shane Howard, Mia Dyson, Stephen Magnusson, Punctum Live Arts, Sydney Children's Festival, Kavisha Mazzella, Cirque du Soleil, Tripod and Music Outback.
As a creator, interpreter and improviser, Carl is recognized as a sensitive, dynamic and fearless singer, a quickfire musical mind and affable and engaging stage presence. Carl enjoys being a messenger for the articulate truth of music and delivers it with a balance of respect and abandon.
Carl writes songs on the sharps of arrows. And when he sings them, they are delivered directly into the heart of people… (Naomi Edwards)
Art exhibition  JENNIFER BARNETT –
Happy Snaps: Moments captured in a painting
20-21, 26-28 March, and 2-4 April 2021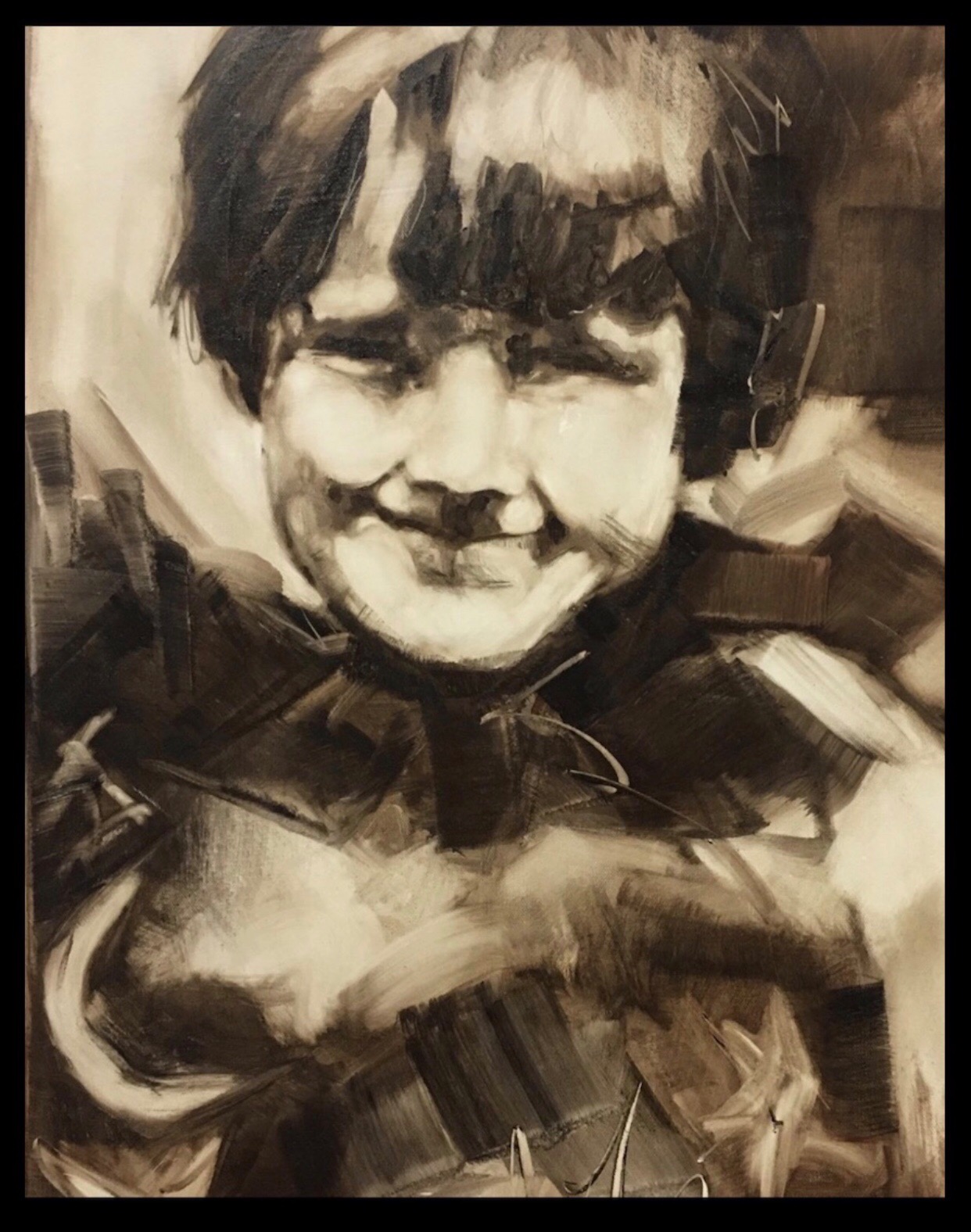 Before selfies we had happy snaps. Moments frozen in time.
Happy Snaps is a group of oil portraits inspired by vintage 20th century photographs. All complete strangers, and all completely happy.
Live music with DJANGO FRETTS
Saturday 13 March | 3.00pm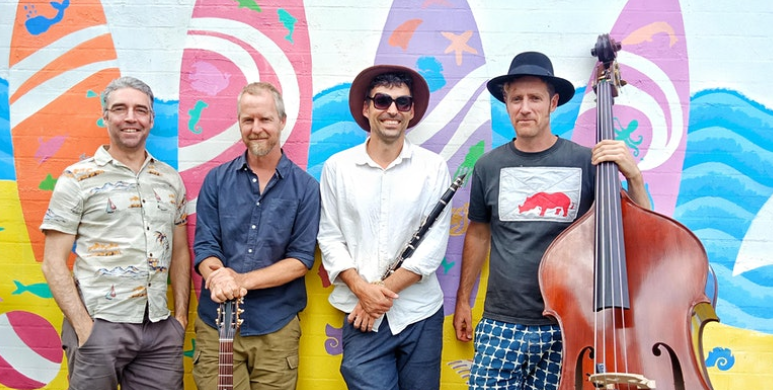 The Django Fretts are Castlemaine's very own gypsy jazz quartet. Formed in 2015, the Fretts have an extensive repertoire of tunes taken from theDjango Reinhardt songbook as well as a few American jazz favourites.They have played extensively around the goldfields region, honing their up-tempo sound at markets, gigs,and festivals. A set from the Django Fretts will evoke the mood of 30s Paris with authentic gypsy jazz melodies and acoustic improvisations.
International Women's Day Concert
7pm | Monday March 10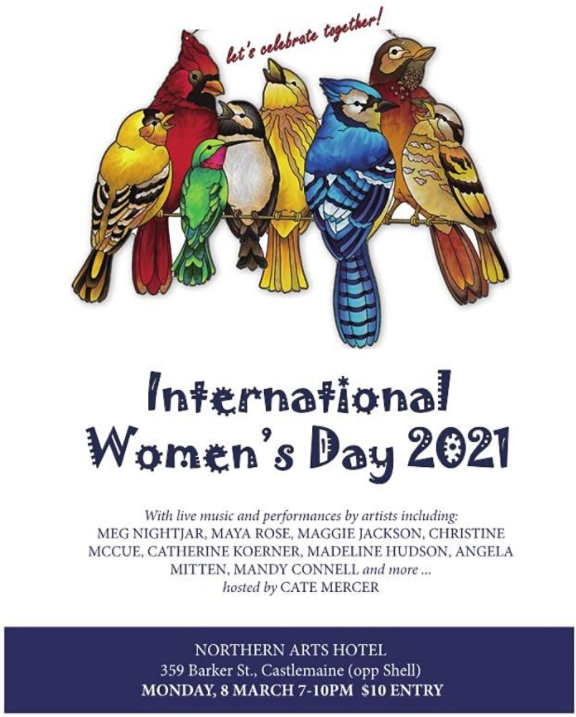 Mining Cole
Saturday 6 March | 2.45pm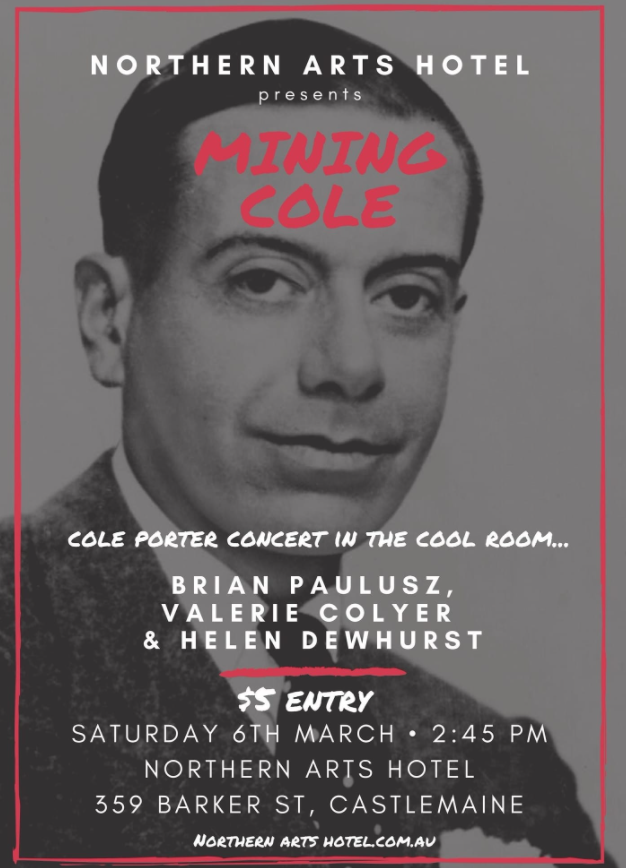 MAGGIE JACKSON TRIO
Saturday 27 February 2021 | 8.00pm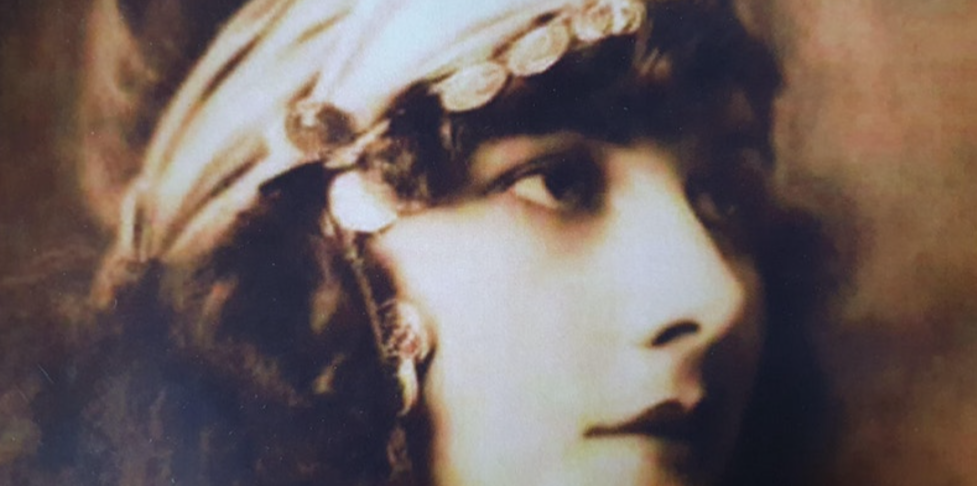 Maggie's desire in this performance is to showcase beautiful melodies from different rooms of music, Jazz, Classical, Celtic and weave them into a story that gathers the threads of improvisation, creating an intimate moment with the audience, a bliss of connection. It is what Maggie most loves about performance, that oneness, that sacred moment together. All tickets $15.