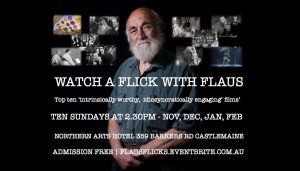 Featured Event Duration: Sunday at 2:30pm commencing Sunday 21 November
Watch a Flick with Flaus commencing 21 November 2021
Every wondered if we invited a film buff to share ten films what would they be?  We invite you to join us while we watch a film doyen's remarkable selection. Over ten weeks, in the time-honoured Sunday matinee tradition, John Flaus will introduce and engage in conversation about one of his chosen films. Ten 'intrinsically worthy, idiosyncratically engaging' films chosen by Castlemaine local resident, film doyen, and national treasure, John Flaus. If you want to know a little more about John you can view his Wikipedia entry
here
Each Sunday at 2:30pm commencing Sunday 21 November 2021
Ten films in ten weeks from 21 Nov-19 Dec 2021, then from 16 January 2022. All shown free.Bookings and Details: 
here
Films selected by Billy Wilder, Howard Hawks, Carl Theodor Dreyer, Humphrey Jennings, Orson Welles, Fritz Lang, Satyajit Ray, Stanley Donen, Yasujirō Ozu, Jacques Demy.
Films to be shown each week will be chosen on the day.
Photo of John by Darron Davies [find out more about Darron's work
here
]