About
The Northern Arts Hotel features nine boutique guest rooms, function areas, a sitting room and a private upstairs balcony.
Following a three-year-long refurbishment by former furniture maker Nicholas Dattner, the hotel opened as a guesthouse in 2013. Featuring rich timber paneling, an art deco ceiling together with an extensive collection of antiques, paintings and quirky objects, the Northern Arts Hotel shares much in common with some of the great art hotels around the world.
The History of the Building

The Webber's Brighton Hotel and Store circa 1910.
Gold was discovered in nearby Barkers Creek in July 1851, and a two-storey bakery existed on the site by the late 1850s. The current building was constructed around 1873 and opened as the Brighton Hotel and Store with Harry Excell as Licensee. The rear section was built in 1908, and the name changed from Webber's Brighton Hotel and Store to just Webbers Hotel in 1913 whilst the front was rebuilt in Art Deco style in 1939 at which time it became the Northern Hotel.
During the later part of the 19th and 20th century the success of the hotel was largely dependent on the adjacent Thompsons Foundry (est. 1875). The function room and drive-thru (now a gourmet bakery) were completed in 1990. New owner Nick Dattner changed the name after renovation to the New Northern in 2013. Located at the quiet northern end of town, the Northern Arts Hotel emerged under current owner Maggie Fooke and continues as a celebrated part of creative Castlemaine.
Faces of 359 Barkers St
HARRY & ANN EXCELL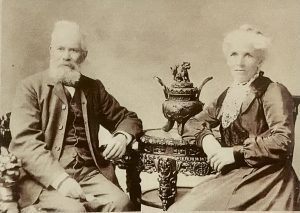 The Northern Arts Hotel opened on the site at 359 Barker Street in 1873 as the Brighton Hotel and Store, with Harry Excell as licensee. Harry and his extended family were born and lived in Brighton, England before they emigrated to Australia. Harry arrived in Castlemaine in 1857, aged 19, with his widowed mother, Ann. He appears to make a bit of money from gold which might well be how he became a publican! An annual licence could be obtained upon payment of 100 pounds. The photo shows Harry and Ann
Excell. Harry and his family moved to Central Otago, New Zealand while his mother remained in Castlemaine and died and was buried there in 1888. The name Brighton Hotel would stay until 1913.
.